Hundreds of thousands of protesters marched through the streets of Bolivia's largest city, Santa Cruz de La Sierra, questioning President Evo Morales while expressing outrage at his government's response to forest fires that destroyed large areas of the country's forests this year.
Protesters carried placards at the protest, which took place late Friday, calling for a "vote of punishment" against Morales in the upcoming October 20 presidential election.
Tight polls show that Morales, Latin America's oldest leftist leader, could be forced into a second round with his main rival, Carlos Mesa, a former business-friendly president.
For weeks, protesters and opposition candidates have urged Morales to declare a "national disaster" the increase in forest fires this year, which has already devastated an area larger than Costa Rica. The statement would facilitate international aid.
The Morales government said a disaster statement could invite foreign meddling in a sovereign affair, echoing concerns also expressed by neighboring Brazilian President Jair Bolsonaro, and sparked global protests over the way he treated the fires in the Brazilian Amazon.
Santa Cruz, where organizers said 1.5 million people joined Friday's protests, is home to vast expanses of Chiquitano forests. They were named for the indigenous people who have inhabited the region for hundreds of years.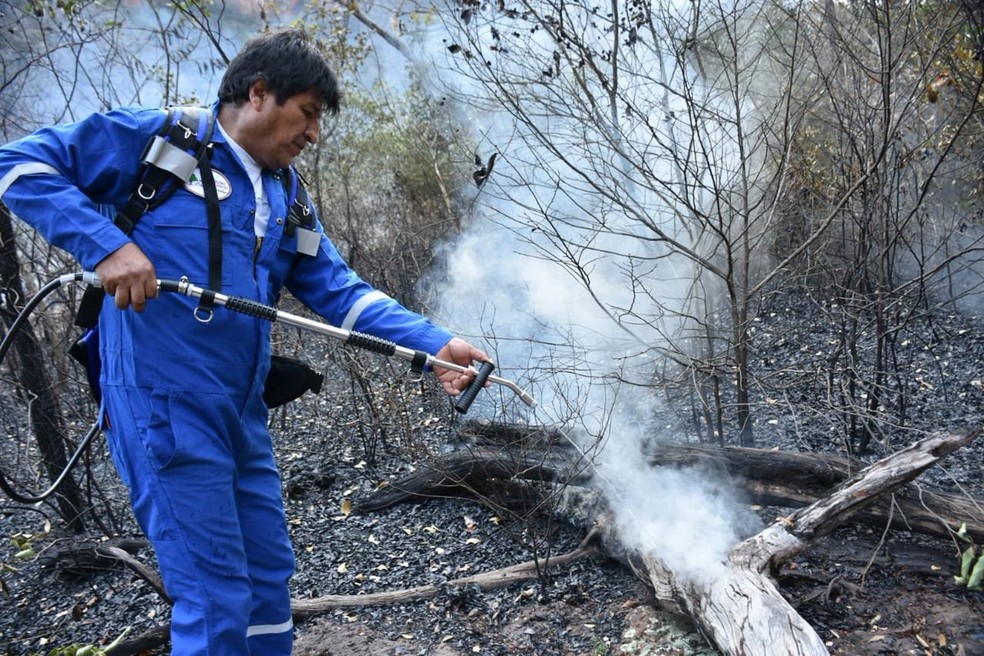 Evo Morales Pours Water Into Burnt Bolivian Forest, August 2019 – Photo: Bolivian Disclosure / Reuters
Protesters say a Bolivian disaster statement would remove bureaucratic barriers to foreign aid needed to contain fires in the impoverished South American country.
Authorities did not give an official estimate of the number of protesters on Friday, but a local reporter working with Reuters said about 350,000 people marched through the city.