After days of denying, Iran finally recognized what Western intelligence agencies had revealed: the Ukrainian plane that crashed on Wednesday in Tehran was mistakenly shot down by an Iranian missile.
The government initially suggested that technical failures were responsible for the crash of Ukraine International Airlines' flight PS752, which crashed shortly after takeoff from the Iranian capital to Kiev, killing the 176 people on board.
Just three and a half hours before the crash, the Iranian Army had attacked two US bases in Iraq in retaliation for the assassination of Iranian General Qassem Soleimani, killed days earlier in a Washington-ordered air strike in Baghdad.
This is not the first time that a commercial aircraft has been shot down by mistake.
In 1988, the US shot down a passenger flight from Iran after identifying it as a fighter plane. In 2014, a Malaysia Airlines plane was hit by a Russian-origin missile as it flew over Ukraine amid conflict between the country's authorities and pro-Russian militants.
However, Iran's acknowledgment of this latest "mistake" has raised serious doubts about how it is possible that a properly identified and scheduled commercial flight may have been confused, despite taking off minutes before Tehran International Airport.
"There are so many flaws in the operation that they are a complete disaster. It's a bizarre set of circumstances. Really bizarre," says Richard Aboulafia, vice president of Teal Group, the US aerospace and defense market analysis firm.
At the request of BBC News Mundo, a BBC Spanish service, several experts have analyzed possible flaws they believe could explain Iran's misidentification that resulted in the deaths of 176 people aboard the Ukrainian plane.
1. The transmission of radar information
Analysts point out that existing safeguards for operating surface-to-air missiles aim to prevent misidentification. But in the case of the Ukrainian plane, all these measures failed.
"This incident strongly suggests that the methodology has failed and so has the technology," Teal Group missile systems analyst Steven Zaloga tells Bloomberg.
The investigation should shed light on why Iran mistook a commercial plane flying very close to Tehran airport and making its usual route to Kiev with a missile.
According to Zaloga, Iran's SA-15 Tor missiles are very effective against short-range threats, but its guidance system is not designed to distinguish commercial aircraft, military aircraft or cruise missiles so easily.
However, the Ukraine International Airlines plane announced its intention to fly and transmitted its position to civil radar all the time.
And, according to the expert, this data should be available to operators responsible for the missile system, suggesting a failure to transmit information.
"These are multiple flaws. You ignore the identification of the plane as a commercial flight near an airport and even your radar information because you see that the target is rising, not falling," Aboulafia told BBC News. World.
"For some reason, missile system operators misunderstood what they were seeing on radar. That's what happened in 1988 when the US shot down an Iranian aircraft. And I'm pretty sure that's what will come out of the investigation." , evaluates Mark Cancian of the Washington Center for Strategic and International Studies (CSIS).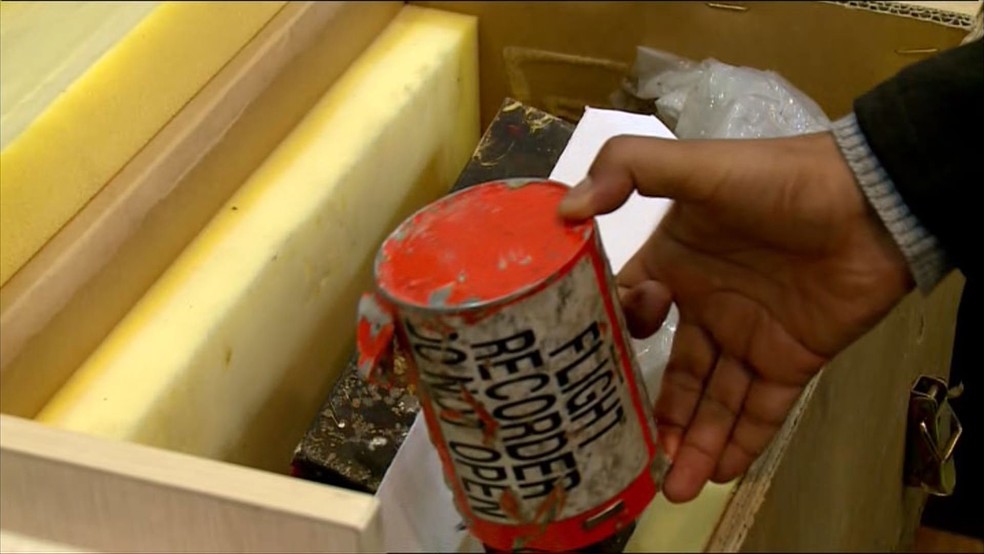 Iranian Civil Aviation unveiled black box image of plane on Friday (10) – Photo: Iran Press / AFP
2. Do not close Iran's airspace
Why didn't Iran close its airspace at a time of maximum tension when it expected possible US retaliation after attacking US military bases in Iraq?
That is one of the questions that has not been silent since the incident, as the decision endangered civilian flights, such as Ukraine International Airlines, and contributed to the "mistake" that Iran points out in identifying the aircraft.
While there is no official explanation from the Iranian government, several analysts believe that if the country allowed commercial flight operations, it was because it believed that it would reduce the possibility of Washington responding with another attack.
"According to our sources, the Islamic Revolutionary Guard Corps (CGRI) has decided not to close Iran's airspace as a defensive tactic against possible US reprisals," Iran International television said.
"So basically all the passengers on each civilian plane were used as human shields," tweeted Simon Petersen, director of Air Defense and Missile Affairs of the Danish group Terma, about this theory.
The plane was shot down just three and a half hours after the Iranian attack on US bases in Iraq, but Cancian believes it was "a clear mistake" not to close airspace in that short period of time.
"On the one hand, you have the aviation industry that you want to continue operating, and on the other, the Army, which doesn't want to warn when it will fire missiles. And they probably didn't talk to each other," says the expert.
According to him, people like to believe that these events are planned centrally, with a rational structure.
"But they forget that they are human beings in the midst of separate bureaucracies, who operate according to their own rules, do not talk to each other and therefore endanger the lives of passengers."
3. Human 'stress and fear'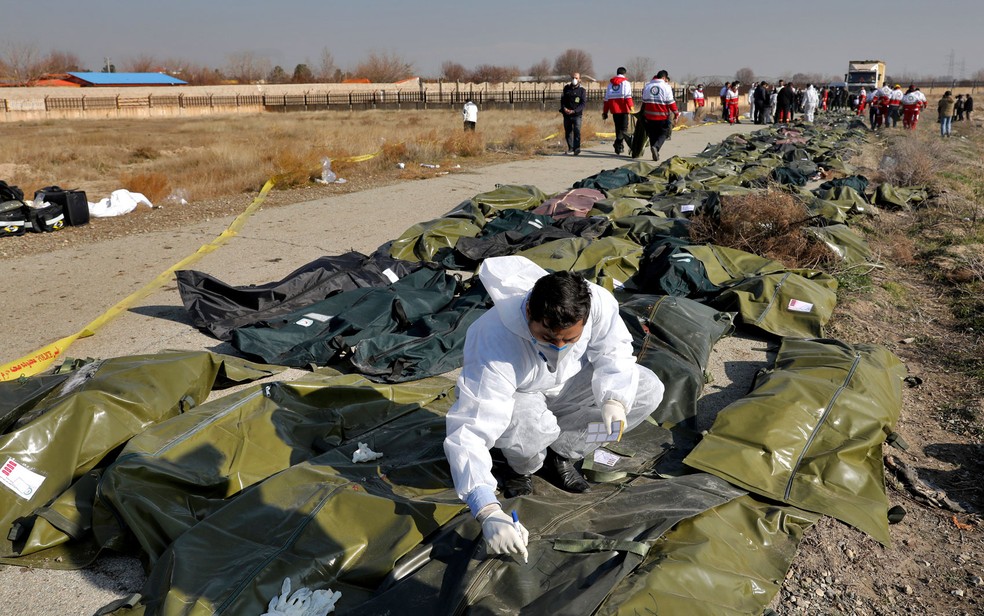 Forensic investigator works at crash site of Ukrainian plane crash in Iran on Wednesday (8) – Photo: AP Photo / Ebrahim Noroozi
In fact, the CSIS expert believes that the main mistake that led to the crash was due to human failures – not technical ones.
Justin Bronk, a military technology expert at the Royal United Services Institute in the UK, said "stress and fear" were responsible for the tragedy.
In an article published on the British think tank's website, the expert contemplates a scenario with "a team that is in charge of the poorly trained or inexperienced missile system, exhausted after being alert for days because of the confrontation between US and Iran."
"They are human beings under a lot of stress in a situation of military tension. And they needed to make a decision in a very short time, because they believed that the target was a threat," says Cancian.
According to Iran, the missile operator "had 10 seconds to decide" whether or not to carry out the attack, apparently after his communication system had "some interruptions".
To Cancian, "It could be 10 seconds, 20 or 5, but it's too little time."
"It's not enough to really ask too many questions. A missile moves very fast, and operators don't have much time to react."
Aboulafia believes, however, that acting so quickly only applies in a war context and in a combat zone – not in a scenario so close to an international airport.
Cancian also recalls the fact that these air defense systems have not been used by Iran in recent years and, in his opinion, this lack of experience may also have influenced what happened.
"These aren't systems that you can practice a lot with. And when there's a problem like that, you can imagine that people wouldn't be too sure what to do."
But Aboulafa emphasizes that the failure goes far beyond the actuation of the missile operator responsible for firing.
"People make mistakes. But this is an organizational mistake. Not having control of the operation of a missile system near a commercial airport goes far beyond a mistake. It's almost impossible to believe in such a system," he concludes.

Ukrainian plane crash in Iran – Photo: Roberta Jaworski and Rodrigo Sanches / G1
Airplane crash in Iran with 176 on board