The Pussycat Dolls may have delighted fans with their return to The X Factor – but some viewers were not so happy about the cheeky performance.
Ofcom received 419 complaints about the band's first reunion show, which saw X Factor judge Nicole Scherzinger meet with Carmit Bachar, Kimberly Wyatt, Ashley Roberts and Jessica Sutta to perform a mix of hits on Saturday night.
Image:
Ofcom is reviewing complaints against broadcast rules
But her risky dance moves and tight clothing – which included PVC socks and bodysuits – provoked a reaction.
A spokesman for Ofcom told Sky News: "We are currently reviewing complaints against our broadcasting rules, but we are still deciding whether or not to investigate."
Several viewers anticipated the furore by posting about performance on social media.
One tweeted, "I feel uncomfortable seeing five adult women dancing half naked on my screen."
Another said, "Ofcom will be interested in PCD, isn't it?"
The Pussycat Dolls retired nine years after separating in 2010, amid reports of resentment over Scherzinger's lead role.
His performance on X Factor included a mix of hits – including Don't Cha and Buttons – as well as his new song, React.
Saturday's show was the X Factor: Celebrity finale, which saw TV star Megan McKenna crown the winner ahead of The Chase interviewer Jenny Ryan, the V5 band and the twins Max and Harvey.
After his name was revealed, McKenna told host Dermot O'Leary, "Thanks so much to everyone who voted for me, I'm living my dream and can't even explain how excited I am."
:: Listen to the behind-the-scenes podcast on Apple Podcasts, Google podcasts, Spotify, Spreaker
The 27-year-old has won a record deal.
Speaking to Sky News before the first episode of the show's first celebrity series, McKenna told Sky News that winning was his dream.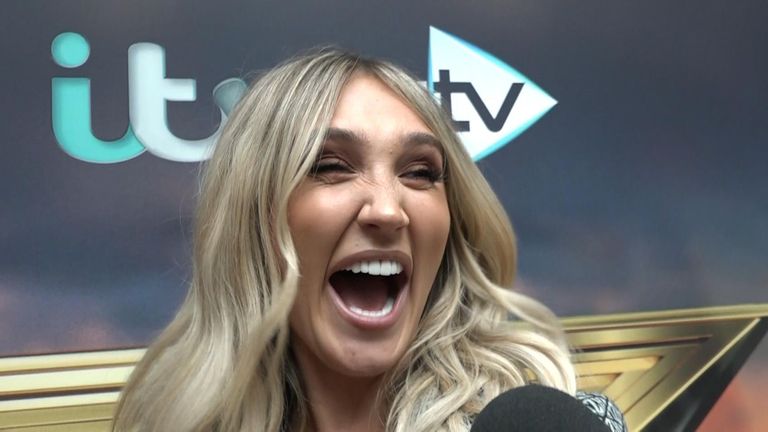 How good are X Factor celebrities in karaoke?
She said, "I watched the show grow my whole life, so being able to sing in front of the judges was honestly one of the best times of my life.
"It means a lot to me to go to the judges' houses. I had to pinch myself, like, I don't believe that; I'm at Simon Cowell's, that's crazy."