Sometimes when she closes her eyes, Doctor Mirza Dinnayi still sees Lamya's burned face, her expressionless lips, her lifeless eyes bruised by the shards of the landmine that killed her escape mates.
It was over three years after that first meeting in April 2016 at a hospital in Iraqi Kurdistan. The 16-year-old had escaped a year and a half of violence and rapes at the hands of militants from the Islamic State terrorist group, who sold her in slave markets from Mosul to Hawija.
"I found her blind, very hurt, without strength. She was very ashamed. She didn't talk, she didn't feel like living. The doctors couldn't afford to treat her in Iraq," Dinnayi, himself of the Yazidi ethnic minority, said in an interview. to BBC News Brasil.
Lamya Haji Bashar was included in an assistance program for Islamic State (IS) survivor yazidis launched by the non-governmental organization Luftbrücke Irak (Iraq Air Bridge), founded in 2007 by Dinnayi, and the German state government of Baden-Württemberg.
Between March and December 2015 the NGO took 1,100 women and children to Germany, where they received medical and psychological treatment.
"We managed to save an eye from Lamya and slowly she came back to life," recalls the doctor and activist.
"One day she told me she wanted to tell her story to everyone."
A year later, Lamya would win the European Parliament's Sakharov Prize from another Yazidi survivor, Nadia Murad, winner of the 2018 Nobel Peace Prize.
Their stories are marked by shattered bodies, suicidal impulses, and psychotic breakdowns. They are similar to those of more than 7,000 kidnapped Yazidi women and children sold as slaves and sexually assaulted by Islamist extremists after they took control of the northern Iraqi Sinjar region in August 2014.
Dinnayi interviewed most of these victims when selecting beneficiaries of the relocation program in Germany.
The work earned him the Aurora Award for Humanitarian Awakening this year, delivered in October in Yerevan, Armenia. But it also earned him a depression and a diagnosis of posttraumatic stress.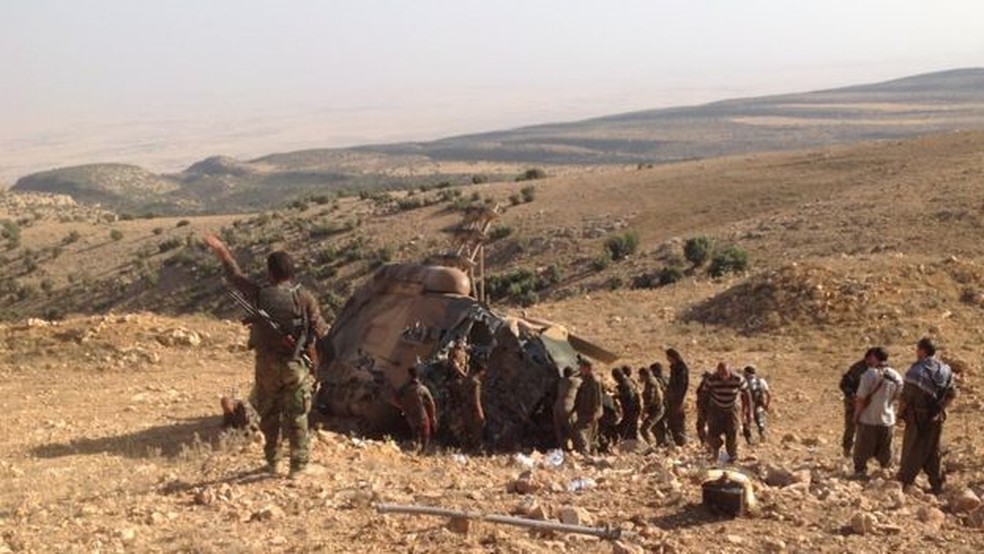 Dinnayi won the Aurora Award for Humanitarian Awakening in 2019, delivered in October in Yerevan, Armenia – Photo: Personal Archive via BBC
"There was one case worse than the other. All were unbearable. There were children who saw their mother raped, small girls raped in front of their mothers. I don't like to remember," he says with a sigh.
The 46-year-old doctor, himself an exiled yazidi in Germany since 1994, looks down.
"Some pictures, I'll never forget. Imagine having in front of you an eight-year-old girl telling you how she was raped seven, eight times a day for months by IS soldiers. The other day, a teenage girl with third degree burns everywhere." the body, which had set itself on fire to commit suicide and escape torment. "
He speaks with shame, denying details. The scars that the reports left on his soul are enough for him to show the extent of the horror experienced by IS victims.
"I couldn't sleep. I cried several times a day listening to these stories. When I remember, I think, how can this kind of thing happen in the 21st century?"
Practitioners of a more than 4,000-year-old religion that brings together elements of Zoroastrianism, Judaism, Christianity, and Islam, the Yazidi are viewed by IS as devotees of the devil.
In August 2014 alone, the extremist group murdered more than 5,000 men and elders of the religious minority in Sinjar. A genocide, according to the United Nations.
Images around the world at the time showed thousands of people fleeing in the heat of over 45 degrees and huddling helplessly high on Mount Sinjar, surrounded by IS.
"When I saw my people fleeing the desert without food or water, I could not remain indifferent," says Dinnayi.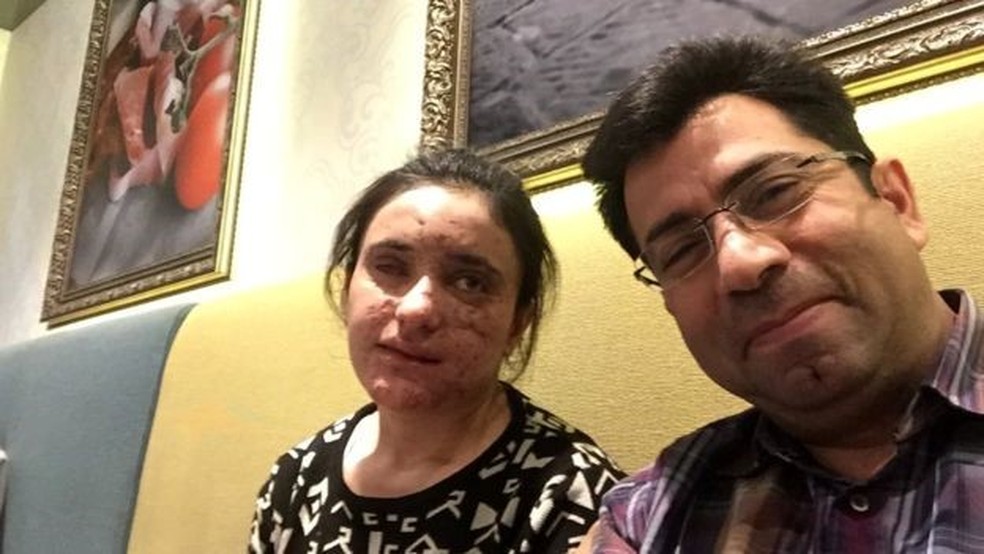 Lamya was hit by bomb wreckage that killed her escape mates – Photo: PERSONAL ARCHIVE via BBC
The activist, who was special adviser to minorities in the government of Jalal Talabani, president of Iraq from 2005 to 2014, mobilized his contacts. The Iraqi government sent a Soviet-era military helicopter to evacuate refugees. Two or three daily flights were carried out on rough terrain, often amid gunfire from extremists.
The aircraft arrived at Mount Sinjar with water and supplies and departed, carrying in return more people than it could carry.
The desperation of refugees trying to force themselves into the helicopter resulted in tragedies, such as the death of a 20-year-old man who clung to the landing strip when the aircraft was already in flight. A few minutes later, when they were one hundred meters high, the boy lost his strength and fell.
"We couldn't reach him to pull him in. I saw him falling and couldn't do anything. It was one of the worst times I had," laments Dinnayi, present on every flight.
After a week of rescues, the doctor was "totally traumatized."
"You can imagine what it's like to land in the midst of about ten thousand people. Everyone tries to get in the helicopter and you can only take 15, 20. At the end of the day, you saved some 300 people, but you still feel guilty for leaving it to yourself." behind thousands more. As much as you do, it's never enough, "he says.
Operations were suspended in late August after the overloaded helicopter crashed into the mountain, killing the pilot. Dinnayi broke his two legs.
"I thought about quitting, going back to Germany and taking psychological treatment. But the sense of responsibility for my community pushed me forward."
Surviving IS didn't mean the end of the drama for all the yazidi abducted by extremists.
According to the founder of Luftbrücke Irak, many of them are prevented from returning to their villages by the community itself, which considers them unclean because they have maintained, albeit forced, relations with Muslims.
For those who remained in Iraq, the recent attacks by the Turkish army in northern Syria have raised fears that ISIS fighters will take advantage of the weakening Kurdish forces that protected the Yazidi to regroup and re-terrorize Sinjar.
The UN estimates that more than 170,000 people left their homes in a five-day Turkish offensive in early October, including residents of Yazidi villages.
Turkey says it wants to create a "buffer zone" in northern Syria to keep Kurdish extremists away from its borders.
"I fear they are opening the door to a new yazidi genocide," warns Dinnayi.