On the last day of a tense campaign, Prime Minister Justin Trudeau and his conservative rival Andrew Scheer on Sunday burned the latest cartridges to convince many undecided voters and avoid a minority government in Canada, as polls predict.
After 40 days of clashes, controversies, and electoral promises, the two major alternating parties in power end the campaign as they began: tied up in voting intentions, which heightens suspense on the eve of the election.
"We need a strong progressive government that unites Canadians and fights climate change, not progressive opposition," Trudeau told a rally on the outskirts of Vancouver.
Liberals and conservatives have between 31% and 32% of preferences, according to the latest polls, which would not allow them to reach an absolute majority in the House of Commons of 338 seats.
A minority government would be required to receive timely support from smaller formations, such as Jagmeet Singh's New Democrats (NPD) party, third in the polls (20%), or the Quebec Block separatists.
Coincidentally or not, the leaders of the four parties end all their campaigns on Sunday in British Columbia province, where Vancouver is located: Trudeau and Scheer, Singh and green leader Elizabeth May attend their last rallies in this region where greens and neo -democrats threaten liberals.
"Trudeau has clearly shown that he is willing to do anything to stay in power," Scheer said on Saturday in Toronto. The conservative accuses liberals and the NPD of seeking a government coalition that, he said, would increase the deficit of social programs advocated by the NPD.
In Vancouver, precisely, Scheer again accused Trudeau of clinging to power through a coalition with the NPD, something that both this party and the liberals deny.
"The alternative is clear: either a NPD government with the Trudeau mask that will raise taxes, destroy jobs, weaken our economy and take more money from you, or a conservative majority government that will not spend more than it receives and inject money in your pocket, "he told supporters at a rally.
Analysts say that in the Canadian parliamentary system it is possible for an out-of-office prime minister to remain in office, even if he does not get the majority of votes, provided he gets the support of one or more parties to have the House vote in his favor. .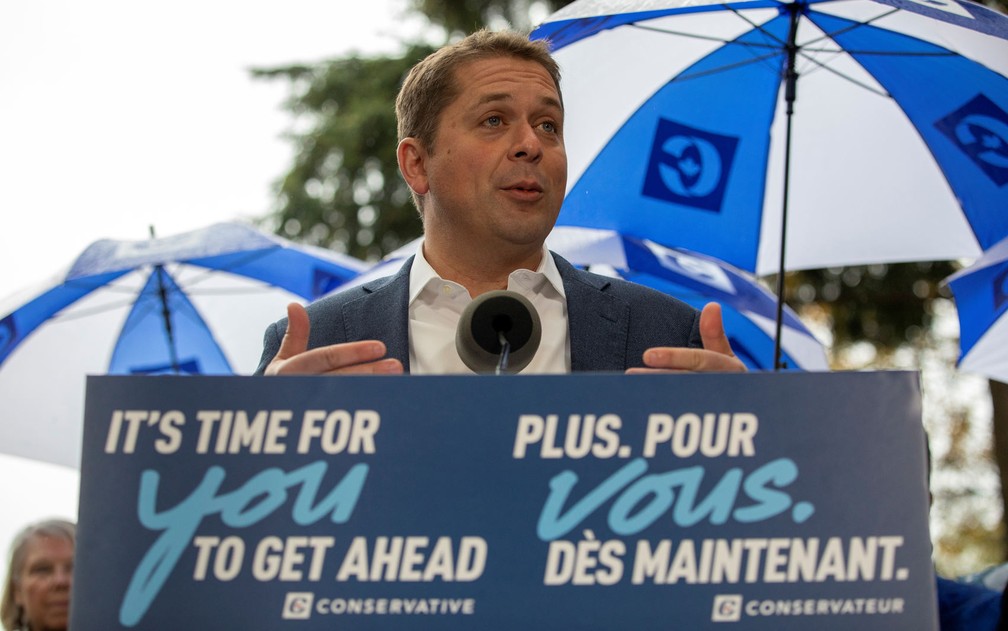 Canadian Conservative leader Andrew Scheer during a campaign event in Vancouver on Sunday (20) – Photo: Reuters / Carlos Osorio
A few days ago, the two leading candidates travel around the country with a common goal: to invite Canadians to give them a parliamentary majority to prevent the formation of a minority government.
Trudeau insistently reiterates his call to the electorate to "look ahead" and that a return of conservatives to power after four years of liberal rule will result in budget cuts and a weakening in the fight against climate change.
"We know that the first thing Andrew Scheer will do (if elected) will be to eliminate Canada's only plan to combat climate change," Trudeau said in Ontario on Saturday. Scheer has vowed to suppress the carbon tax set by the liberal prime minister if he takes office.
From the perspective of a minority government, liberals would be in a better position than conservatives, having more affinity for the NPD than their rivals. The NPD leader has said he excludes any kind of alliance with Scheer.
Scheer, who spared no criticism of the current head of government, often treating him as a "liar" and "hypocrite," found himself in an awkward position this weekend.
Struck on Saturday by media reports of his party's involvement in funding a defamation campaign against a small rival party, Scheer has repeatedly refused to confirm or deny the news, which has earned him criticism for his lack of transparency.
Previously, he had had a hard time defending a position contrary to abortion rights and his dual Canadian and US citizenship.