US President Donald Trump said on Sunday he had talked about Democratic presidential candidate Joe Biden and his son in a telephone conversation with Ukrainian President Volodymyr Zelensky.
Ukraine denies pressure from Trump to investigate Democrat candidate Joe Biden's son
Trump asked Ukraine to investigate Biden's son; Democratic pre-candidate demands explanations
Trump's statement to reporters about his July 25 conversation with Zelensky came as the Democratic leader of a senior parliamentary committee said the US president's request for an impeachment could be the "only remedy" to the situation.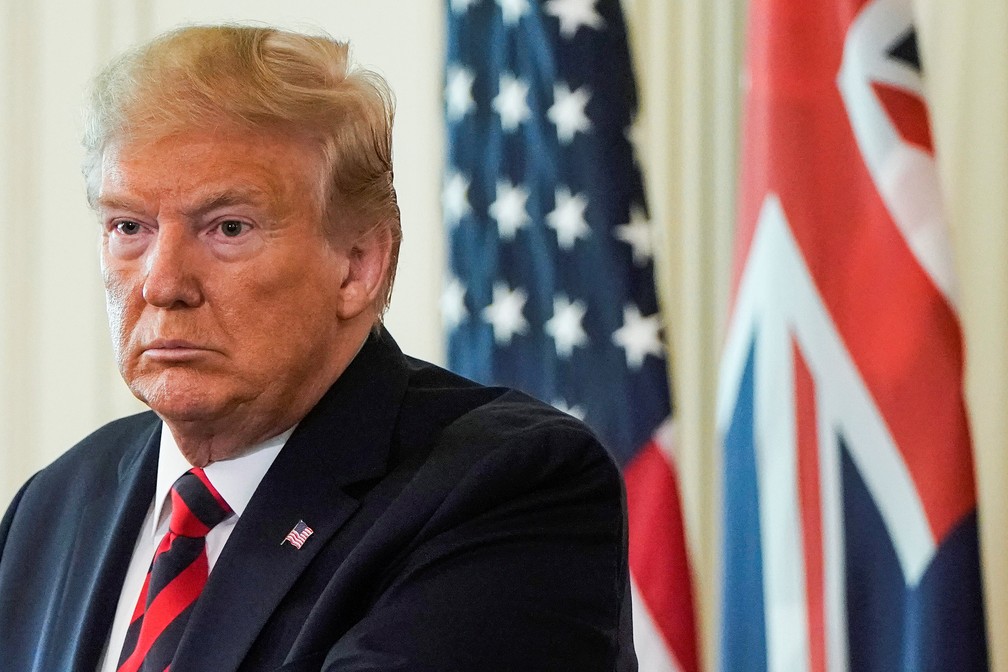 US President Donald Trump at a White House press conference on September 20, 2019 – Photo: Joshua Roberts / Reuters
The call is at the center of a political battle in Washington that has been worsening since Friday, when news outlets reported that Trump repeatedly asked the Ukrainian president to investigate whether Biden, the favorite Democrat to confront him in the election of next year. next, he abused his position when he was vice president.
Trump told reporters in the White House that the call was mostly congratulatory, but also dealt with corruption and the Biden.
"The conversation I had was mostly congratulatory, mostly about corruption, all the corruption going on and especially about the fact that we don't want our people, like Vice President Biden and his son, creating the corruption that already exists in Ukraine," he said. Trump.
Democrats have said that if Trump asked Zelensky to investigate Biden, that is tantamount to encouraging foreign interference in the 2020 election.
Trump denies having done anything inappropriate. His allies, such as US Secretary of State Mike Pompeo and his personal lawyer, Rudy Giuliani, defended the president's call – which, according to reports, was the subject of a complaint by an unidentified whistleblower.
If an investigation shows that Trump has pressured Ukraine to investigate Biden, the US Congress may have no choice but to pursue impeachment, said Democratic Chairman of the House Intelligence Committee, Adam Schiff.
Schiff had been reluctant to file an impeachment, but his comments on CNN's "State of the Union" show showed that his stance changed.
"If the president is essentially withholding military aid while trying to coerce a foreign leader to do something illicit, to provide dirt on his opponent during a presidential campaign, then this may be the only remedy that is equivalent to the harm that this conduct represents, "said Schiff.
Republican leader says to be in shock
Senator Mitt Romney, who has already bumped into Trump, used a rare alarm tone among Trump's fellow Republicans.
"If the president asked or pressured the president of Ukraine to investigate his political rival, that would be extremely disturbing," the 2012 Republican presidential candidate said on a social network.
Biden's son worked in Ukrainian company
According to CNN, Joe Biden's son Hunter Biden worked for the Ukrainian company Burisma Holdings – which, in fact, was under investigation. There was, however, no revelation that the Democratic candidate's son had participated in the corruption scheme that led to the downfall of a prosecutor from Ukraine in 2016.
The US Wall Street Journal reported that Trump had pressured the Ukrainian president eight times during the call to work with Rudolph Giuliani (Trump's lawyer) to investigate Hunter Biden.
Democratic politicians and Biden himself, who held the vice presidency of the Barack Obama administration, now pressurize US officials for publicizing the content of the telephone conversation between Trump and Zelensky.
Biden said Friday that Trump "must immediately release the transcript of the call in question so that the American people can judge for themselves."