Uber announced on Thursday (26) that will implement changes in the application. The largest of these is an integration with the Uber Eats food delivery service. Now both services will be within the same application.
This change, according to the company, had begun in 9 cities around the world, including Brazil. Other countries that will receive the news are Argentina, Peru, Mexico, Chile, Portugal, Sri Lanka, India and the United States. According to the company, changes for Brazilian users will arrive "in the coming weeks".
Uber launches loyalty program for users in Brazil
According to the president of Uber, the company started with car trips and has grown from offering meal delivery to bicycles – not yet available in Brazil – and electric scooters to even adding public transportation information to the app.
"Now we want to make Uber the operating system of your daily life: whatever you want to get around, whatever service you need, we want the Uber app to be what you are going to open," he said at a San Francisco event. , in California.
In China, these "super apps" are quite common, especially WeChat, kind of Chinese WhatsApp, which even has option to pay for the application and virtual wallet. The operation is similar to what already happens to other apps in the segment, such as Rappi, which allows you to rent a scooter, in addition to ordering food.
All by App: Life in the App Age
Transit information
Another new feature is the implementation of a service that integrates Uber travel information with the public transportation system.
Google Maps launches special motorcycle navigation
This service will display information about bus lines, subways, and trains right in the Uber app – as with map apps, for example. According to the company, this will allow you to compare available options and plan trips in advance.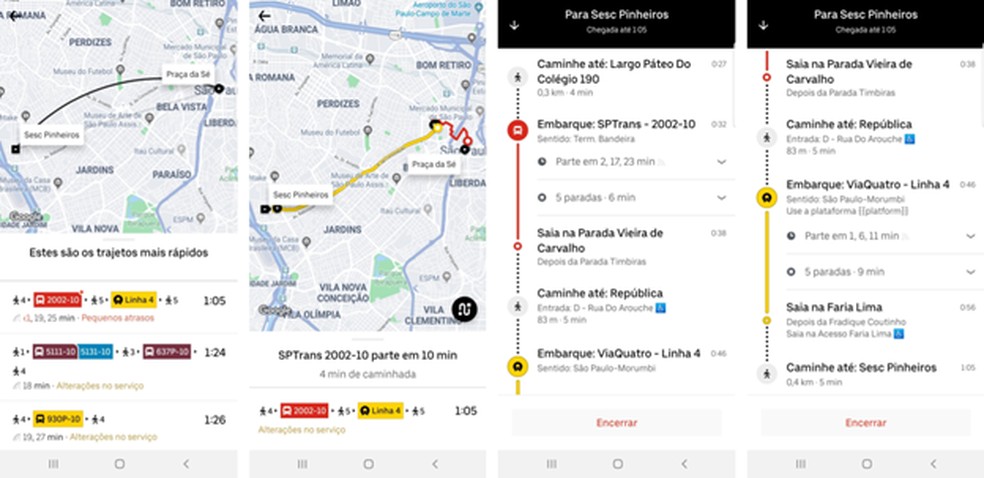 Uber will start displaying public transit information within the app. – Photo: Press Release / Uber
If you want to go home from work, for example, Uber will show you different ways to get around – which includes options that sometimes don't involve asking for a car.
This feature is already in testing in London, Sydney and Chicago. This Thursday begins in Paris, Mexico City and San Francisco. In the coming months it will reach 7 other cities, including São Paulo.
According to Uber, this type of integration is already advanced in cities such as Denver, Colorado, United States. There, it is now possible to buy the public transport ticket directly in the Uber app.
"In many cases, public transportation may be the fastest and cheapest option to get around. So we will continue to work with cities to make these trips even easier. Whether it's providing in-app information, allowing you to purchase tickets or signing up for new partnerships." "said David Reich, global director of Uber Transit, the Uber division that handles this traffic information and integrations.