It is noon in Caracas and, like every day at this time, the city is boiling.
The car horns keep ringing, and both subway cars and buses are crowded with people quietly dealing with the traffic and heat of the Venezuelan capital.
But in Country Club the reality is different. In this neighborhood, located in the geographical center of the city of almost 2 million inhabitants, tranquility reigns.
With its mansions and golf course, the region forgets that it is in Venezuela, a country experiencing an unprecedented socioeconomic crisis, where inflation reached 130,060% in 2018 and more than 5,000 people migrate to other countries every day.
"The monstrosity of some houses is impressive. It looks like Miami," says Juan Carlos *, from the balcony of his modern apartment in a neighboring neighborhood.
"Anywhere in the world people would lose an eye for such a home."
The neighborhood is named after the Caracas Country Club (CCC), built in 1928 by the office of American architect Frederick Law Olmsted, which co-coded New York's Central Park and White House gardens, and was considered the most elitist club in the world. parents.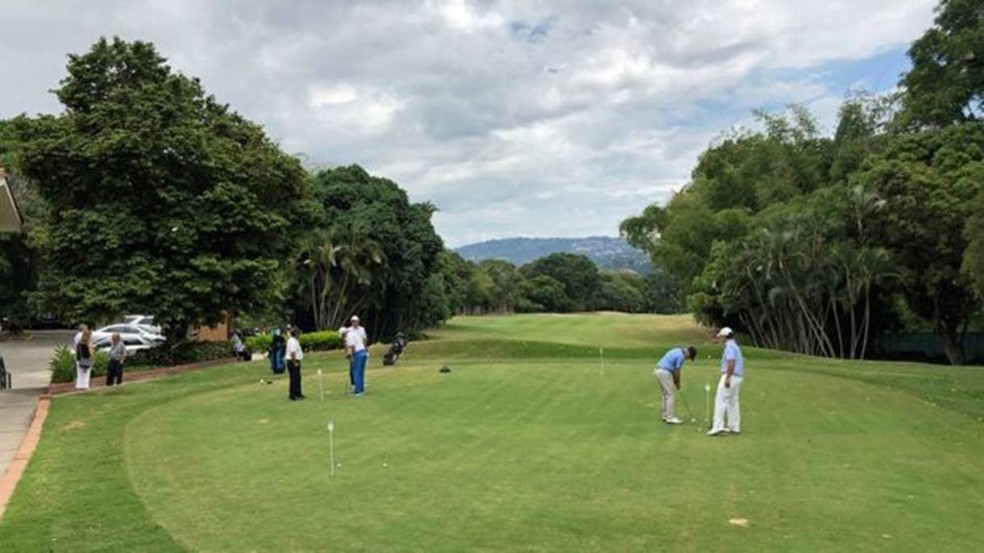 Caracas Country Club has a privileged 18-hole golf course – Photo: Norberto Paredes / BBC
The average price of a home in the neighborhood is over $ 1 million, and the figure persists despite the widespread decline in Venezuela's housing market in recent years.
'A bubble, a fantasy'
Juan Carlos's family has been a member of the club for generations – the cost of membership can be as high as $ 100,000.
Often Juan Carlos invites friends to eat and drink on the club's premises.
"I see it all as a way of escape for all these people with purchasing power," says Juan Carlos.
"It's like an amusement park, you isolate yourself from trouble and allow you to stay in a quiet place where you don't get robbed. Living there: a bubble, a fantasy. A place that doesn't represent the reality of the country."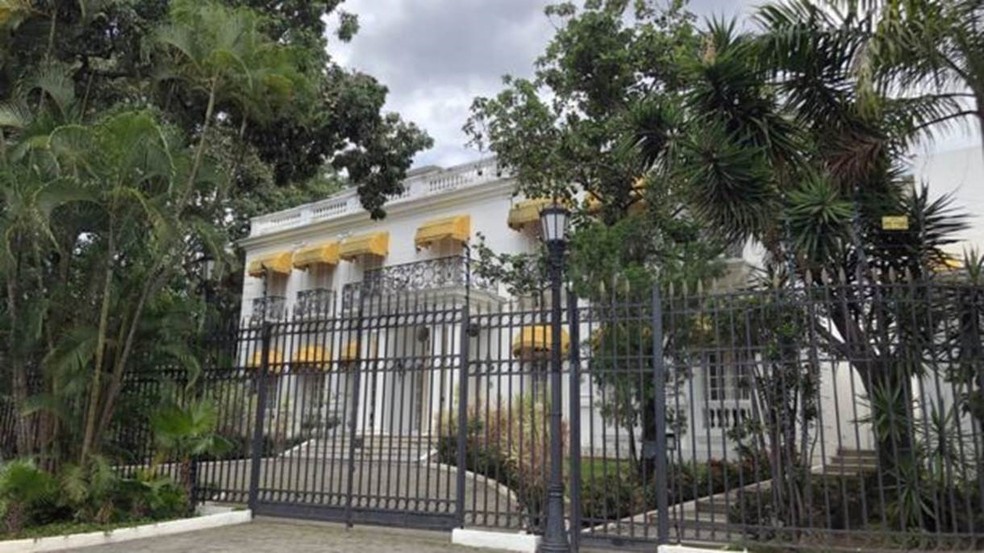 The average price of a house in the region exceeds $ 4.2 million – Photo: Norberto Paredes / BBC
A neighborhood also hit by the crisis
But the Country Club in 2019 is not the same neighborhood as the past.
Although at first glance this is not entirely obvious, this area of ​​the Venezuelan capital is not immune to the crisis either.
Some houses are abandoned, others are being demolished and many have been sold to diplomatic agencies and later turned into embassies.
Local people also suffered financially from the collapse of the country's industrial output of just over 30 million.
Most of the neighbors are entrepreneurs who need to reduce their operations or even close their businesses, laying off thousands of employees. According to the International Monetary Fund (IMF), unemployment in Venezuela is expected to reach 44.3% of the population.
"The crisis has destroyed my father's business and his ability to produce money in this country," says Luis *, another Country Club member.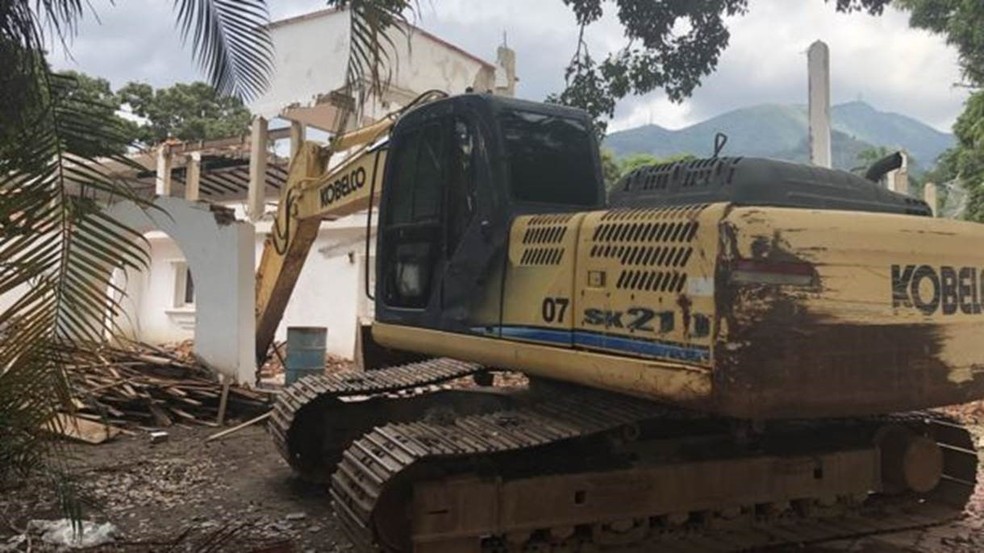 Many houses are abandoned, demolished or sold to diplomatic corps – Photo: Norberto Paredes / BBC
But what most affects everyone is hyperinflation.
"I work for a foreign company and I've always earned in dollars. I've always had a stable standard of living, but hyperinflation has reached such a high level that it erodes to the dollar."
"You go to the market and you have everything. But what costs $ 10 today, if you go in two weeks, will cost $ 20. And you wonder why? It just doesn't make sense," he said.
Today Venezuela, which suffers from food and medicine shortages in much of its territory, contrasts with that of a few years ago, due to the dollarization that the country lives in practice.
Many stores display labels with both local currency and dollar prices. And most accept payments in foreign currency.
"I went out for a drink a week ago and ordered a bottle of rum, which cost $ 70," adds Luis. The same bottle of Venezuelan drink sells in New York for $ 24.
On the other hand, the government of President Nicolás Maduro approved last month an increase in the minimum wage to 300,000 sovereign bolivars, about $ 18 or $ 75. A liter of milk can cost 38,000 sovereign bolivars, or $ 1.31.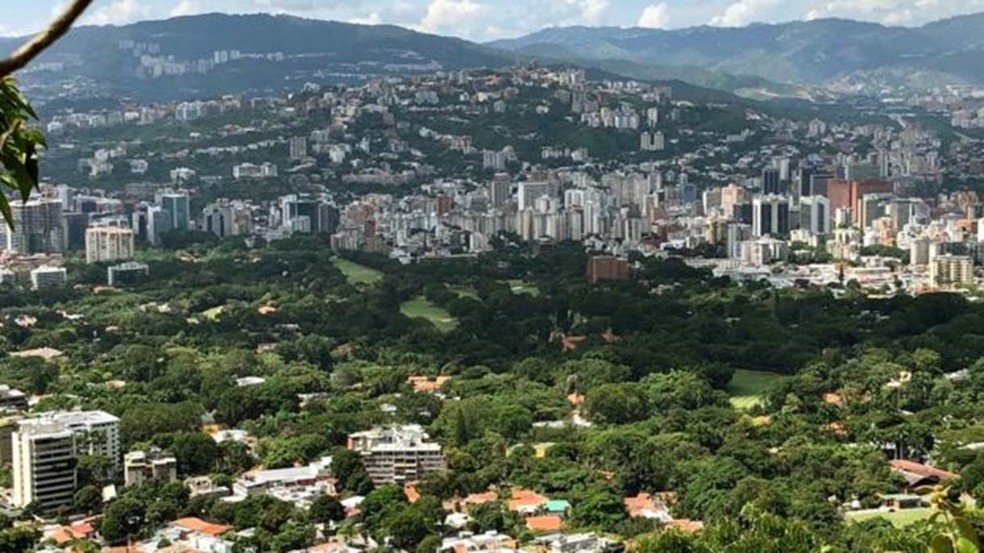 Country Club is located in the geographical center of the Venezuelan capital. – Photo: Norberto Paredes / BBC
In the scorching sun, children swim and play around the club pool while their parents drink and socialize. Everyone seems to know each other.
One small group plays golf on an 18-hole course, another plays tennis. In the restaurant, it does not fit a soul.
The age of attendees catches the eye of Luis, whose family has been a member of the club for over 50 years.
"There's a whole generation that's just not here, and that's my generation," says the nearly 30-year-old.
As with all sectors of Venezuelan society, emigration has also affected the families of Caracas Country Club.
"In this club, it's always been the snobs who have been in charge, but lately only the old ones have been. There isn't a relevant generation. The Country Club is out of style," Luis whispers, being careful to speak with no one around.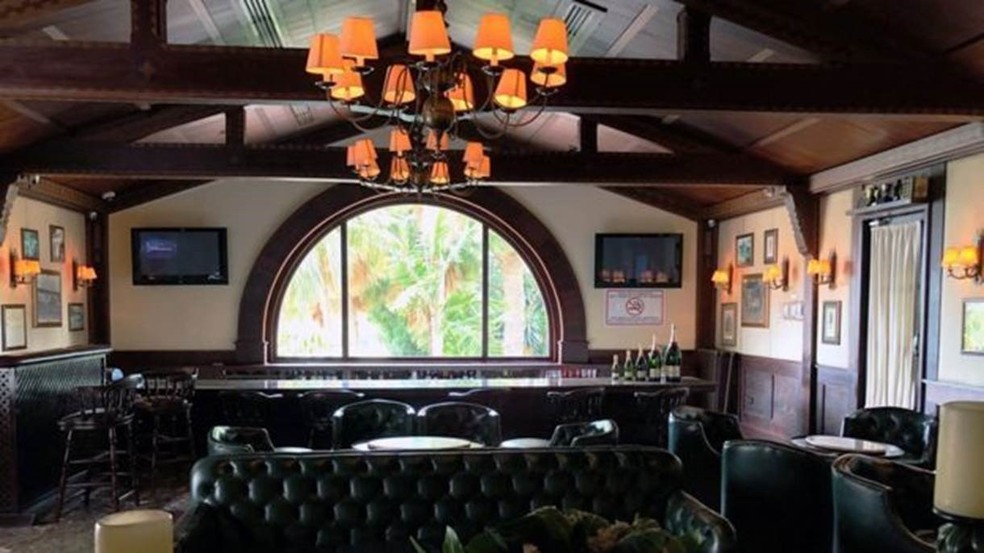 Young people socialized in the traditional bar O Pinguim – Photo: Norberto Paredes / BBC
Some Country Club standards also seem dated, such as the formal attire required for lunch at one of the restaurants there.
'Today only one friend left in Caracas'
Gabriela * is a member of this "lost generation" around the Country Club living abroad and reminiscent of her teenage years at the club.
"It was a lot of fun, there were a lot of young people in trendy clothes, but almost all of them migrated. I think there is only one friend left in Caracas.
"Today, if you're young and you go there, it's a pity. The older ones think, 'You didn't have a chance to leave or you were crazy not wanting to leave.' They think everyone is gone."
Gabriela is one of more than 4 million people who have left the country, according to the United Nations Refugee Agency (UNHCR). The six main destinations are, in this order: Colombia, Peru, Chile, Argentina, Ecuador and Brazil.
The young woman says she would not think twice about returning if the situation in the country changed.
"It would be amazing to come back. Here in Europe there are a lot of good things, but thinking about my career, there in Venezuela I could start a business more easily and at the same time contribute to the development of the country."
Another reason for wanting to return, she says, is her responsibility for Venezuela.
"We were very lucky. Our families were able to make money when it came to that."
"But we are a very small portion. When we left, we left with the excuse of obtaining a diploma abroad. Now I feel that we have a responsibility to return with our acquired knowledge and move the country forward," he says.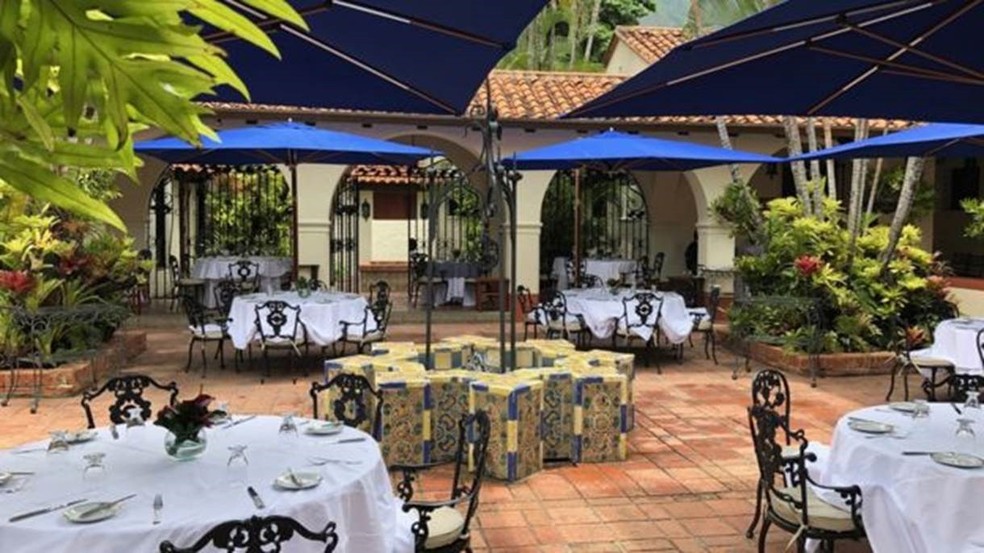 For Luis, Country Club is out of fashion – Photo: Norberto Paredes / BBC
Great last names, little money
For many Venezuelans, the risk of going to a poorer social stratum is far greater than the chance of rising.
"As we say here: there are a lot of people with big last names, but with bank accounts of this size here," gestures Juan Carlos.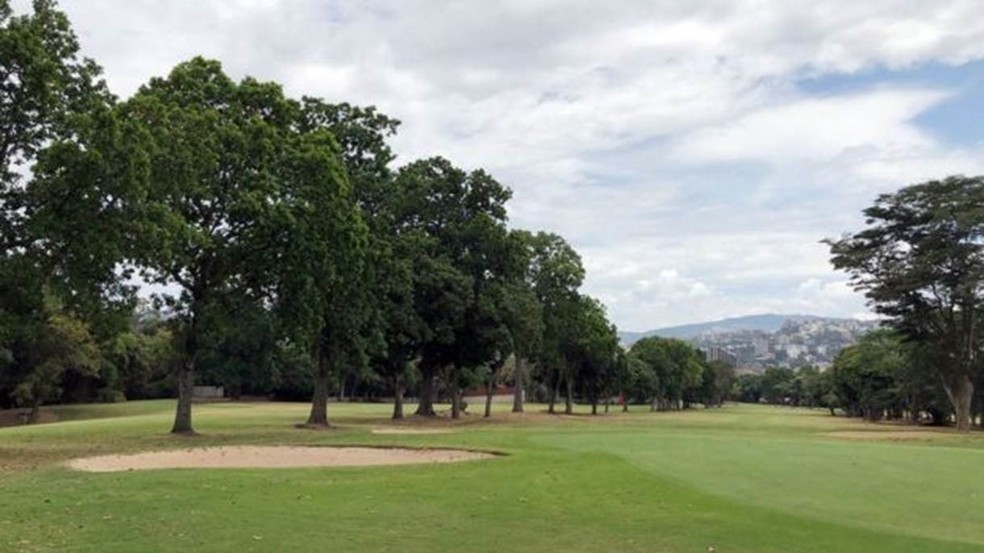 Caracas Country Club was designed by architect Frederick Law Olmsted's office – Photo: Norberto Paredes / BBC
According to Gabriela, the lifestyle of many Country Club members has changed dramatically.
"If you live in Venezuela you may not notice much, but when you travel abroad, you realize that you can no longer afford so many luxuries as before."
In addition to all the problems facing Venezuela, there is one fact of particular concern to the wealthier classes: uncertainty.
"My biggest headache is not knowing what the future holds. Sometimes I wonder if I made the right decision when I decided to stay in the country. I see that many people abroad are developing professionally and thriving," reflects Luis.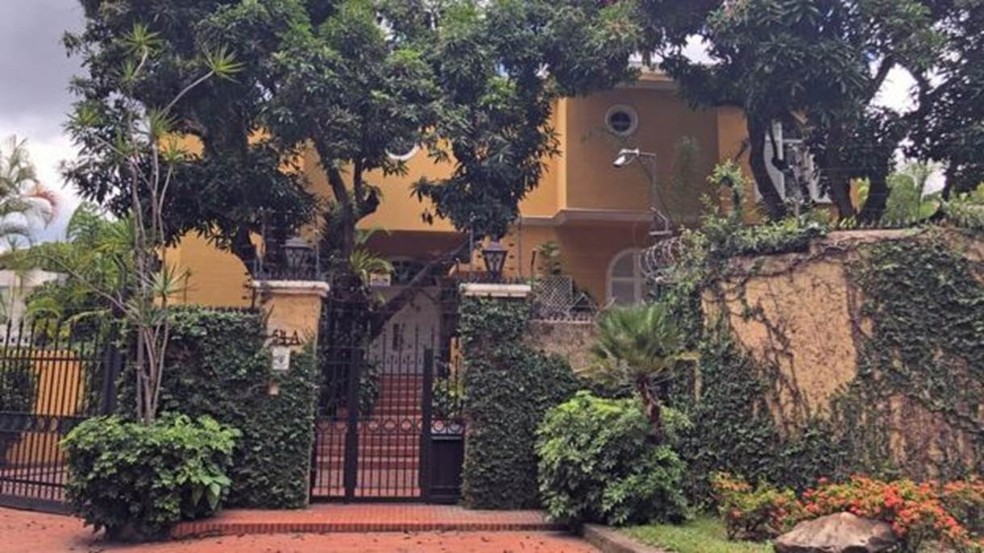 High house prices at Caracas Country Club persist despite crisis – Photo: Norberto Paredes / BBC
Juan Carlos says he has the same headache, not knowing if there is a "light at the end of the tunnel".
He has started his own business recently and makes sure that if you have an entrepreneurial spirit, it is relatively easy to prosper professionally and economically.
"Venezuela has always been, and still is, a country full of opportunities."
* Names with asterisks have been changed to preserve the identity of respondents.
Recommended Shopping