Turkish President Recep Tayyip Erdogan said his bombing aims to create a "safe zone" free of Kurdish militias in northeastern Syria.
The BBC then explains why this new front of conflict matters in Middle East geopolitical chess, and why Trump's decision has been criticized even by some of its leading supporters within the Republican Party.
Understand who the Kurds are and why they are targeting a Turkish offensive in Syria
On Sunday, the US president announced that he would remove US troops from the border between Turkey and Syria, saying that "it is time for us to get out of these ridiculous endless wars" and fulfilling a 2016 campaign promise.
"We will fight where we have the benefit, and only fight to win. Turkey, Europe, Syria, Iran, Iraq, Russia and the Kurds will now have to resolve this and (decide) what to do with the captured Islamic State fighters in their 'region'. Everyone hates the Islamic State, they have been enemies for years. We are 7,000 miles away and we will destroy ISIS again if they come near us again! "wrote Trump on Twitter.
But these US border troops acted as a kind of "buffer" between two arch-rival forces: Turkey, an important military power in the region, and the Kurds, a people who were a crucial ally of the United States during the years of combat. the so-called Islamic State group – which at the same time is Turkey's enemy and claims part of its territory to create its own state.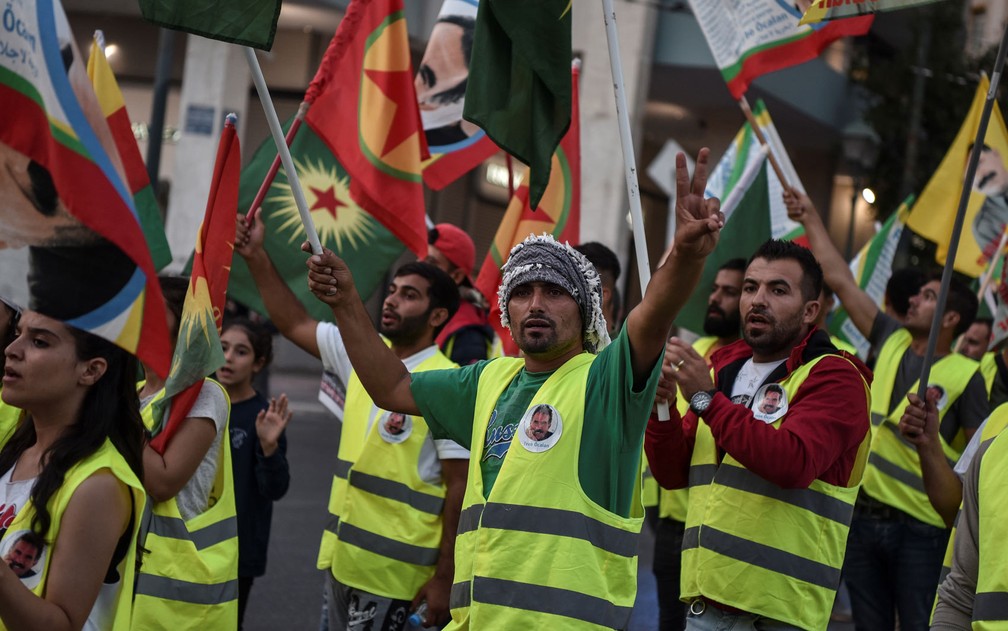 Kurds in Athens protest Trump's decision, which was seen as 'stabbed in the back' by groups fighting the Islamic State – Photo: Louisa Gouliamaki / AFP
With the departure of US troops, space was opened for the current Turkish offensive in northeastern Syria, targeting mainly Kurdish militias in the region.
The Kurds are responsible for guarding prisons and camps that house an estimated 12,000 men suspected of being members of the Islamic State, and it is unclear whether they will continue to do so.
Republican Criticism
The implications of the American withdrawal for the Kurds, and even a possible strengthening of the Islamic State, have even led Trump's allies to criticize his decision in recent days.
"I usually support the president in foreign policy and I don't want our troops fighting the wars of other countries, but it was a HUGE mistake to abandon the Kurds," former Arkansas Republican governor Mike Huckabee said on Twitter on Monday.
"They (Kurds) never asked us to fight their war – only that we could give them tools to defend themselves. They have been faithful allies. We cannot abandon them."
Even Republican Senator Lindsey Graham, who has been one of Trump's top advocates in the impeachment process, called the withdrawal "impulsive" and "a disaster under construction."
In a series of tweets on Monday, Graham said the US decision would "secure the return of IS, force the Kurds to ally with Assad (in reference to Bashar al-Assad, Syrian President) and Iran, destroy Turkey's relations with the US Congress (e) will be a stain on American honor the abandonment of the Kurds.
… The most likely outcome of this impulsive decision is to secure Iranian domination of Syria. The US ceases to have influence, and Syria will eventually become a nightmare for Israel. I feel very bad for the Americans and allies who sacrificed themselves to destroy the IS caliphate, because that decision virtually guarantees IS reemergence. So sad. So dangerous. President Trump may be tired of fighting radical Islam. But this one is not tired of fighting us. "
I urge President Trump to change course while there is still time by going back to the safe zone concept that was working.
Graham also opined that withdrawing troops "will make it difficult for the United States to re-recruit allies against radical Islam" and "leaving the Kurds sends the worst possible signal: that America is unreliable and only a matter of time." before China, Russia, Iran and North Korea act dangerously. "
On Wednesday, the senator said "he will lead efforts in Congress to make (Turkish President) Erdogan pay a heavy price" for the attack on the Kurds in Syria. But he added that he urged Trump to "change his mind while there is still time to return to the concept of a safe zone that was working" on the Syrian-Turkish border.
"Erdogan is not our friend, and Congress will fight back," Graham told Fox News, promising to impose economic sanctions on Turkey in the US Legislature. "We are not giving Turkey the green light in Congress and we will not abandon the Kurds. If President (Trump) does, we will not."
In response to criticism later on Monday, Trump said on Twitter that "if Turkey does something that I, in my great and unrivaled wisdom, considers beyond limits, I will totally destroy and obliterate Turkey's economy (I have already done that before!)". It was not clear, however, what would be "beyond the limits".
On Wednesday, the Turkish army and rebel Syrian allies launched an air bombing operation, which will be followed by artillery attacks, according to Reuters.
Turkey's President Erdogan said his goal was to eliminate the "terror corridor" formed on the Turkish border (recalling that Turkey considers Kurdish independentist terrorist groups) and pave the way for Syrian refugees on Turkish territory to return to a " safe zone "on its own.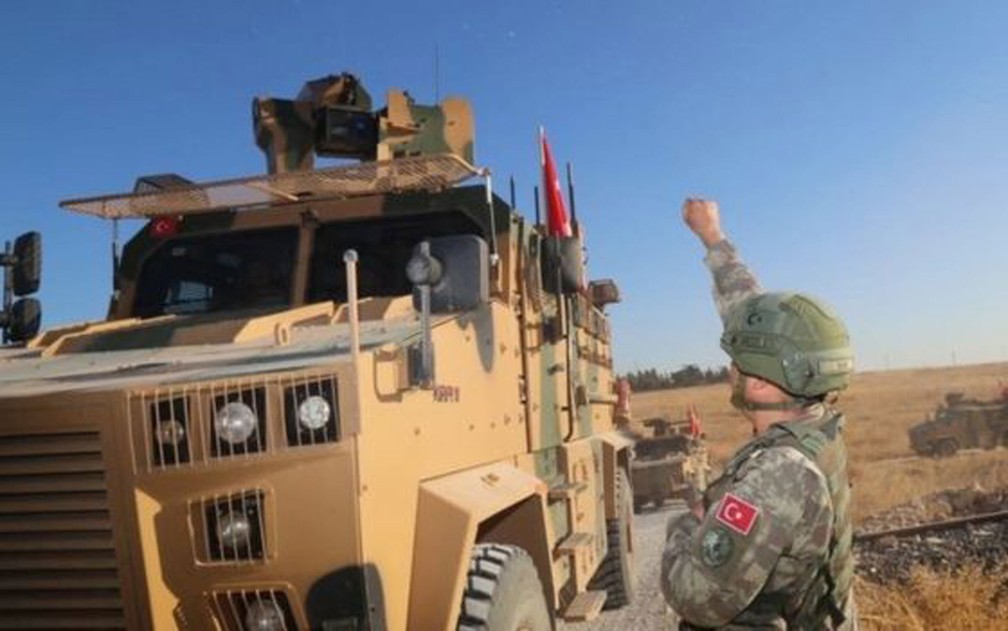 Turkish forces launched attack on Kurds after US troops withdraw – Photo: EPA / BBC
Turkey currently houses 3.6 million Syrian refugees, and the Turkish government wants 2 million of them to return to this "safe zone".
The country has also vowed to expel its Kurdish Syrian militia from the People's Protection Units, which it sees as an extension of the Kurdistan People's Party (PKK), which has fought for autonomy for three decades.
These Protective Units dominate an alliance of Kurdish and Arab militias called the Syrian Democratic Forces (SDF), which has been responsible for expelling IS from a quarter of Syrian territory over the past four years, with the help of air bombers from the US-led coalition.
The SDF said Trump's announcement was a "backstab". Alliance spokesman Mustafa Bali said "Turkish warplanes have begun air strikes in civilian areas and there is great panic among the people of the region."
A day earlier, he also said that "US troops did not fulfill their responsibility and began to withdraw from the area, allowing it to become a war zone. But the SDF is determined to defend northeastern Syria at all costs."
BBC correspondent Orla Guerin, who is in the Turkish-Syrian border town of Akcakale, says "there is no doubt that for Syrian civilians just ahead of the border, it will be another round of fighting in a war." which is already distressingly long ".
Guerin explains that the SDF lost an estimated 11,000 combatants in the war against IS, won with US aid.
Now, the correspondent says, "the group says, for example, that it may need to withdraw its troops from prisons where jihadists are being held in IS, or from cities that have been released from IS control."
"The Kurds are basically saying to the West: The war we fight on their behalf is now at risk because of what Turkey wants to do," Guerin explains.